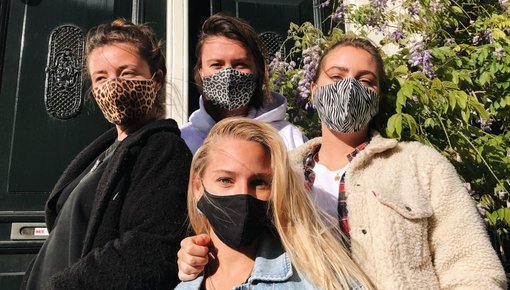 Fashion Face masks that suit your style!
Go for the fashion face masks. A different one for every style. We have several fun prints, including the popular leopard print! But a plain black face masks goes with all your outfits.
Read more
Buy washable / reusable fashion face masks online?
Handy reusable face masks, so you can reuse them more than once. You wash it by hand or with the washing machine (use: hand wash) and this mask is clean again. In other words, completely reusable, you don't have to throw anything away. A lot better for the environment and it offers you and others the protection that is so important. Our face masks are made of 100% cotton and elastic ears. Quality that lasts for a long time and offers safety. Our face masks are ideal for public transport, for example.
Fashion face masks for ladies. Fun prints and colors.
Do you think washable face masks are boring? At Celia Stories you will certainly find the face protectors and face masks that will suit your style. It is increasingly becoming a fashion item. That is why we have many colors and fun prints. Ideal for the fashion-oriented woman. Combine it with your other fashion items. Match you bags with a matching face mask. Or go for a plain face mask so that this match with your outfit.
Made from 100% cotton. Washable and durable.
Our face masks are made of 100% cotton. Easy to wash after use, so they are hygienic for reuse. You can wash them by hand or with the washing machine.
Corona rules face masks Netherlands
On May 6, it was announced during the press conference that face masks in public transport are advised (mandatory from 1 June). These do not have to be of a medical nature.
The government has decided this because 1.5 meters away is not feasible in public transport. As of 1 June, a face mask is mandatory when traveling by public transport.
Rules in your country?
Depending on the country and region you live in rules can be different. Please refer to your local government for more information about the rules, information and use of mouth masks.